Traveling to Hawaii is always a treat for everyone. The flowers, sights, beaches, and the music. Speaking of music; here at The Point at Poipu we offer Ukulele Painting classes. We will set you up with a blank ukulele and everything you will need to paint while our 'Aloha Center' activity staff briefly explain the history of the beautiful sounding instrument of our islands.
Ukulele vs Guitar
Did you know that the ukulele (oo-ku-lay-lay) isn't a Hawaiian instrument? Yes, you read that right! The ukulele originated from Mandeira, Portugal. The birth of the ukulele dates to 1879 with the landing of Portuguese craftsmen sailors to Hawaii.  These sailors were Manuel Nunes, Joao Fernandez and Augustine Dias. Who invented the ukulele for the long boat ride and were immigrants arriving in Hawaii to work in the sugar cane fields.
The ukulele quickly became Hawaii's most popular musical instrument. Hawaiians were not only impressed by the sounds of these instruments but also how easy it was to learn and its size. Being a 'small guitar', the ukulele was easy to carry for plantation workers for entertainment in our sugar cane fields.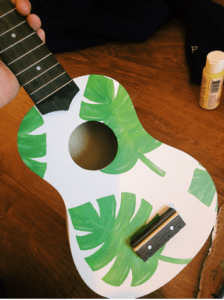 The popularity of the ukulele also caught the eye of Hawaiian royalty, King David Kalakauna and his sister Lili'uokalani (who later became Queen). They both loved the ukulele so much he incorporated it into traditional Hawaiian dances and music. The monarchs of Hawaii made sure that the ukulele would become completely intertwined with the musical culture of Hawaii.
Hawaiian Ukulele Makers
The ukulele got its first taste of mainland popularity in the 1900s. Visitors were enchanted by the beautiful tropical islands with their unique music and dance traditions. Many songwriters travelled to Hawaii and fell in love with the ukulele. It then started to become a popular instrument on, what Hawaii calls, 'the mainland'.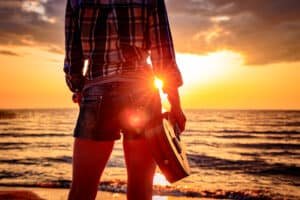 Today the ukulele is best known for being played by one of the most famous ukulele musicians, the late, Israel "Iz" Ka'ano'i Kamakawiwo'ole (known as Bruddah Iz by Hawaiians) whose cover of Somewhere Over the Rainbow was an international bestseller.
What Year Was The Ukulele Invented
Created in the 1880s, the ukulele is based on several small Portuguese-origin guitar-like instruments, the machete, cavaquinho, timple, and rajão, brought by Portuguese immigrants from Madeira and Cape Verde to the Hawaiian Islands.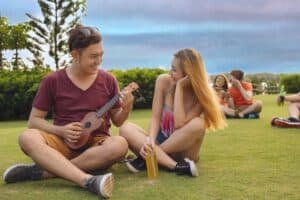 So, now know its history and significance of the 'Uke' to the Hawaii and its people.  Next time you decide to take a vacation to Hawaii, pick one up and start strumming, you might surprise yourself.