Slime has been a popular hands-on project made out of items you can find laying around at home. Through the years at Cancun we have mastered our favorite recipes for all of our guests to learn and enjoy! What is so great about slime? Well slime not only is a fun chemisty project teaching kids a fun chemical reaction. Chemistry is all about states of matter including liquids, solids, and gases. It is all about the way different materials are put together, and how they are made up of atoms and molecules. It is fun to see how a slime kit can be a solid and the watch it ooze like a liquid and a slime monster!
Slime has become a huge phenomenon you can find countless videos and recipes all over the internet.  There are also some slime recipes that do not even use a glue base. The easiest slime recipe has only 3 ingredients which is regular school glue, baking soda and contact solution, that's it! You can also use the same recipe but substitute regular school glue with clear glue to make clear slime and of course add your favorite add ins like glitter, beads, and foam beads for added texture. Here at Cancun we've made glitter slime, clear slime, cloud slime and our favorite Fluffy slime! Our Fluffy Slime recipe just includes regular glue, baking soda, baby oil for gloss and stretch, food coloring, scent and of course our favorite activator which is contact solution. The key to a good slime is not adding too much activator so it doesn't lose its fluff and stretchiness.  You can also create a slime farm and many different types such as blue slime, metal slime by watching slime videos for kids.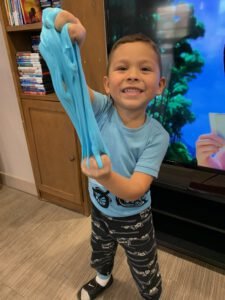 One of our other favorite slimes is Cloud Slime. This one took us forever to master but we mastered the recipe to our liking. This one starts of with a regular slime base and for activator we use a borax solution with water. Now borax is used a cleaning solution but when used correctly it can be safe in slime and on the hands. The borax activator is just 1 tsp to every 1 cup of hot water, that's it! To start add cup of glue, tsp of baking soda and activator to make glue base. In another bowl you will need the special ingredient which is instant snow! Activate your instant snow just enough so it fluffs up and not too moist. Now comes the fun part! Slowly start adding a cup of your instant snow into your slime base. Mix them together and watch your cloud slime start to form. You can keep adding instant snow to get the preferred consistency that you desire and enjoy! This one I have learned works best with the borax activator.  Slime containers can be used to store slime, and there is even minecraft pink slime!  You can even use black slime, gold slime and purple slime tinkers.  Slime is versatile, including and how to make slime with toothpaste.   You can always of course add a scent and a color to make it even more fun!

Slime has been popular for years and it still will be for years to come. Here at Paradise we continue to stay on top of trends to see what new slime we can make to teach all of our guests! Parents also get involved and find it is a great stress reliver for them as well. Squishing it, making swirls, poking it and making bubbles however just enjoy it!
Other uses of slime as wallpaper slime, cave slime and slime chunk farms.  You have to be careful to know how to get slime out of the carpet.
Paradise Activity Company is the largest vendor for activities, entertainment and hospitality for the resort, timeshare and recreation niche. We provide all services relating to the on-property activities at each resort.
For more information, contact Paradise Activity Company!
https://paradiseactivitycompany.com
info@paradiseactivitycompany.com
323-999-1894