Greetings from Scottsdale Villa Mirage
I think it is safe to say that everyone has heard of Bingo but have you ever heard of music bingo? If you haven't I am here to tell you all about it, and even if you have already I am sure you will still enjoy this. Music Bingo is just as it sounds, it is just like regular bingo except with music. The same games can be played in music bingo as in regular bingo for example four corners, regular bingo, X marks the spot, double bingo and countless others.
During music bingo the spirits around the pool or wherever it is being played are at an all time high. People are dancing in their lounge chairs, or they are dancing in the pool, singing along even if they are not playing. The songs we choose vary from playlist to playlist but I guarantee you that you have heard them all before. We have different categories that we choose from when the time comes to do this activity which is quite often.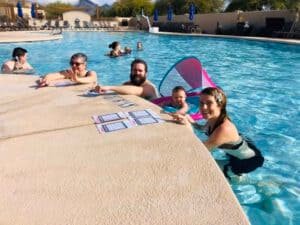 Some of the different categories we have are 50's, 60's, 70's, 80's, 90's, Disney movies and shows, televisions shows, and even movie soundtracks. During certain holidays we have even made special playlists for those occasions like Valentine's Day, Holidays season and even popular summer songs. By far the movie soundtracks and television show tunes are the most popular. No matter what playlist we do play everyone enjoys every single second of it and sing along to the songs. When we do finish the bingo activity every single time guest from around the pool ask me when we will be playing again as well as if I could leave the music playing because they have enjoyed it so much.
Music bingo makes me happy to do no matter the day and I know the guest and every one enjoy our spin on a very popular game like bingo. Mixing music and bingo has been a great success and I am happy and the team when they see guest singing along to all the songs from maybe a time they were growing up.
Paradise Activity Company is the largest vendor for activities, entertainment and hospitality for the resort, timeshare and recreation niche. We provide all services relating to the on-property activities at each resort.
For more information, contact Paradise Activity Company!
https://paradiseactivitycompany.com
info@paradiseactivitycompany.com
323-999-1894