Galaxy Jars
Galaxy Jars are one of the most simple, quick, and beautiful crafts for anyone to do. It's great for kid's parties, sleepovers, or just something to do on a rainy or snowy afternoon. Also called "calming jars," these sparkly sensory jars have become very popular in the last year or so. They only require a few simple ingredients, and can be made in under 5 minutes. And the best part is, they can be reused and enjoyed numerous times over!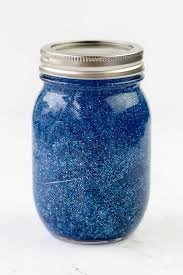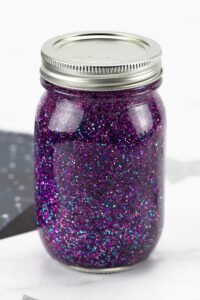 Let's get to how to make these gorgeous Galaxy Jars and the materials you'll need.  First, you'll need a mason jar. Any size jar will do, but try to use a medium size jar, typically 16 ounces. You could also use recycled water bottles or any liquid-safe container with a lid. Next, you'll need clear craft glue, water, food coloring, stirring stick or spoon, and glitter. All these items can be found at any craft store or craft department at your local retailer. Any kind of glitter will do, but you'll want to use a finer glitter, something not too heavy as it might not mix well in the jar. You'll fill the jar halfway with the clear glue and the rest of the jar with water to just below where the lid closes on the jar.
Once the water and glue are in the jar, stir them until they are completely mixed together. Then, add the food coloring. You'll only need a few drops so the mixture isn't too dark for the glitter to be seen. Mix that together with the glue/water mixture until you get a fluid liquid concoction. Next, comes the glitter! You can add as much glitter as you'd like and as many colors of glitter, but make sure it's not too much so that everything can swirl together.
Once you have all the ingredients mixed together, you can put the lid on the jar, and you're all set! Make sure the lid is on tight, and you can even hot glue the lid to the jar to ensure no extra spills. Now, shake the jar and see the contents move and swirl around inside to look like a glittery galaxy! Also, you can make the jars to reflect the season using holiday food coloring and seasonal colors of glitter or even decorate the outside of the jar to make it extra special. It's a great and simple craft to enjoy all year long!
Paradise Activity Company is the largest vendor for activities, entertainment and hospitality for the resort, timeshare and recreation niche. We provide all services relating to the on-property activities at each resort.
For more information, contact Paradise Activity Company!
https://www.paradiseactivitycompany.com
info@paradiseactivitycompany.com
323-999-1894