Maui is definitely a special place for many.  The warm climate, white sandy beaches, and tropical foliage make it one of the top vacation destinations in the world.   Above all the tropical scenery we have to say that the best thing about Maui, and Hawaii, is our culture.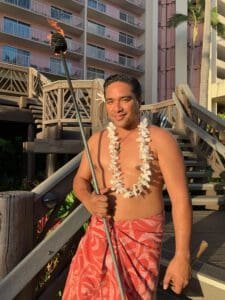 Hawaiian Torch
Here at Ka'anapali Beach Club, we love to practice and share the Hawaiian culture with all of our owners and guests.  Every evening at sunset, if you are at the pool or standing along the beach front you will see one of our Activities Team Members do our traditional torch lighting ceremony.  The torch lighting is beautifully done and lit (we don't use led torch light)!  The torches lighting is a beautiful site on property and (while we don't teach you how to light a torch, you can see us do it.  We use lighting a propane torch with us carrying the the torch meaning of the beauty of the Hawaiian culture.
Hawaii Tiki Torch
The torch lighter will start in front of the restaurant and make his way around to the beach front.  Before he heads up to light the torches on the upper lobby level, he will stop and blow the conch shell four times to signal the ending of another beautiful day in Hawaii.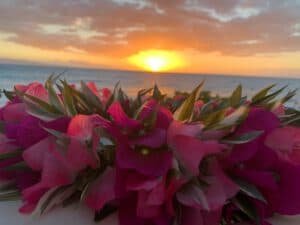 Torch Lighting Ceremony
If you are planning on watching our Torch Lighting Ceremony we suggest you head down to the pool area or beach front about 20 minutes before sunset.  Bring your favorite beverage and sit back until the sun is just about to touch the horizon.  Once you hear the conch shell you will know the ceremony is about to begin.  Don't forget to bring your camera.  Our torch lighters love to stop and take pictures with our guests.  It so exciting to be next to the heat of the fire, listening to the sound of the ocean, while the colors of the sky change from blue to pinks and purples after the sunsets.  Join us to see how simply magical Maui is at sunset!
Paradise Activity Company is the largest vendor for activities, entertainment and hospitality for the resort, timeshare and recreation niche. We provide all services relating to the on-property activities at each resort.
For more information, contact Paradise Activity Company!
https://paradiseactivitycompany.com
info@paradiseactivitycompany.com
323-999-1894