In Hawaii, there are many types of different lei.  Some made with flowers, some made with leaves, some made with yarn, and some even made of candy.  One of Hawai'i's most popular lei is made of a nut.  The Kukui Nut!
In ancient times, Hawaiians believed that the Kukui Nut Tree was a symbol of peace, protection, and enlightenment.  It was said that these trees were introduced to Hawaii by early Polynesian voyagers.  Traditionally, a Kukui Nut Lei would be worn by Hawaiian Ali'I (chiefs).  These polished nuts, when strung onto a cord and worn as lei, would symbolize a chief's social status.   Some other uses include fish bait, ink for tattooing, and dyes for clothing.  When a roasted Kukui Nut is chopped finely and mixed with Hawaiian salt it can be used as a seasoning for fish.  When made into a seasoning it is called Inamona.
In 1959, the State of Hawaii named the Kukui Nut Tree the official state tree.  Also known as the Candlenut Tree, the Kukui Nut Tree was most used as a source of fuel, or candle light.  Today, the oil from a Kukui Nut is a prized possession.  The healing powers of this oil is perfect for moisturizing and healing skin ailments, including sunburns.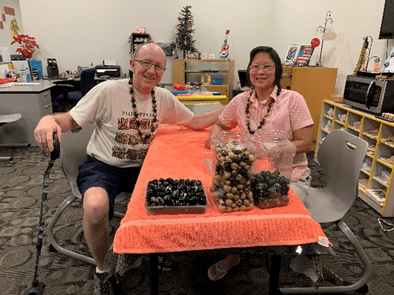 Here at the Ka'anapali Beach Club we offer Kukui Nut Lei Making in our Activity Center!  Our guests can choose from a variety of Kukui Nuts and are taught how to string, knot, and complete a Kukui Nut Lei of their own.  The process starts out by selecting Kukui Nuts that match in size and color depending on the look that is wanted.  It takes about 30 Kukui Nuts to make a lei for an adult.  Once the Kukui Nuts are chosen, they are strung on a satin ribbon, with knots in between each Kukui Nut.  When complete, a simple knot is tied and the lei is complete! Next time you are here at the Ka'anapali Beach Club, be sure to ask about Kukui Nut Lei Making.  Not only will you be creating a beautiful lei, but you will learn about its importance in Hawaii's history and culture!