At Grand Beach Resort, we offer some great scheduled activities on the weekends. But on the other days of the week there is still plenty of things to enjoy throughout the resort, all included with your resort fee!
Water Sports- When the weather is great, we offer some fantastic recreation on our beautiful Lake Bryan. For a small fee, our guests can enjoy kayaking, canoeing, and paddle boating. These water sports are perfect for some exercise with the kayaks. Or grab your gear and take the canoe out for some fishing. And the paddle boats are a nice leisurely activity to take in the sights and view the nature and wildlife central Florida has to offer. Our lake is a natural habitat for many interesting animals like the different exotic birds & cranes, fish such as bass, carp, sunfish, crawdads, and it's even possible to spot an alligator! But don't worry, the gators stay far away from humans!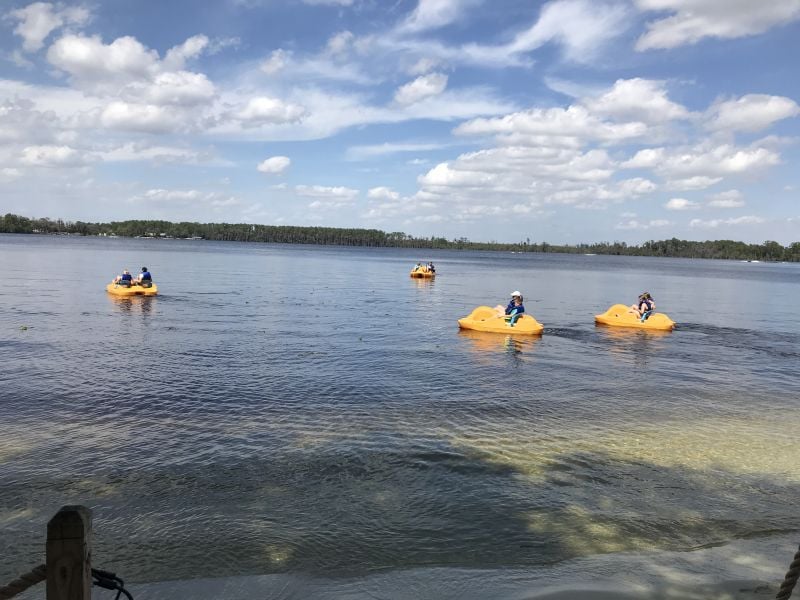 Playgrounds- When the young ones have some extra energy to burn, we have two awesome playgrounds for them to enjoy. They can play, swing, climb, slide, and just be kids! There is plenty of benches and seating around the playgrounds so the parents can keen an eye on their kids or visit with other parents at the resort. The playgrounds are perfect for kids being kids.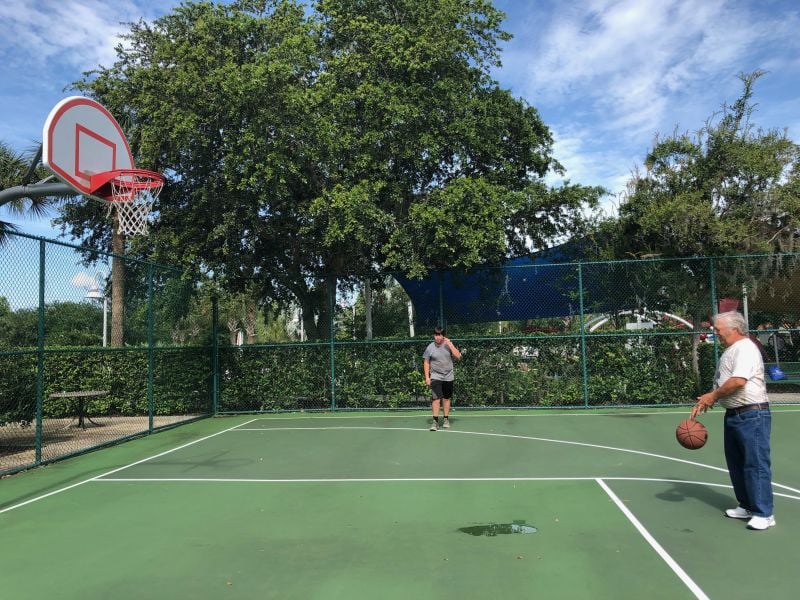 Mini Golf- Who doesn't enjoy a friendly round of mini golf? We have an excellently themed 18-hole mini golf course complete with surfboards, dolphins, turtles, and sandcastles! Gather up your family or friends and compete against each other to make the perfect group activity. We have different sizes of golf clubs, so it's great for all ages and sizes, and don't forget to choose your favorite color golf ball. Families love our mini golf course, and we are sure you will to!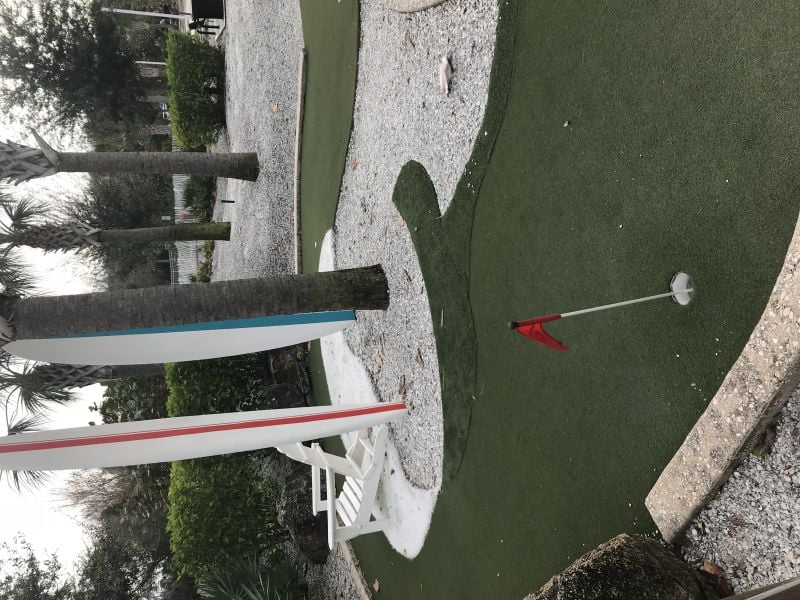 Sports Courts- We also have other sports and recreation you can do at the resort. We offer basketball, tennis, pickle ball, shuffleboard, and volleyball. Compete against your friends in a volleyball tournament or go head-to-head on our shuffleboard court. We have all the equipment you need to enjoy our sports courts, so no need to worry about bringing your own stuff, unless you want to, of course!
2 Pools- At Grand Beach, we have two gorgeous pools to splash around in or soak up the Florida sun. Our Clubhouse Pool is where we do our activities and it's our most popular pool. Our Oasis Pool is on the other side of the resort and offers a more quiet, relaxing environment for those that choose to not participate in activities. Both pools have a kiddie pool and a jacuzzi to enjoy, and the pool's water temperature is in the mid to high 80's all year round.
Our resort also offers BBQ Grills you can use to cook a delicious meal, hammocks on the beach, winding paths for nature walking, a giant outdoor chess board, gas fire pits, an herb garden, and more for vacationers. We are super close to Orlando's world class theme parks, and with all these fantastic amenities and our scheduled activities, Grand Beach Resort is the perfect place for you to Stay Vacationed!
info@paradiseactivitycompany.com
https://paradiseactivitycompany.com/
323-999-1894
Paradise Activity Company is America's Premier Resort Hospitality Company. We focus on activities, entertainment, and hospitality outsourcing for timeshares, hotel and resort operations worldwide. The hospitality industry counts on Paradise Activity Company to run their hotel and resort activities departments, making it the largest outsourced activities vendor in the United States.
Hotels, resorts, timeshares, recreational communities, and several hot vacation destinations have realized the benefits of outsourcing activity staffing to us.