Are you trying to relive the family memories of game night? Or were you to "young" to beat your older siblings? Or do you still want to show why you are considered top dog? Well come down to our Grand Room and play our classic game of Giant Jenga. The game that anyone has a chance of winning if you play it right. However, maybe you are new to the game of Jenga, so let our team explain the setup and rules to you, so you can start strategizing how to take down your family during family game nights.
            Jenga is played with 54 wooden blocks, and you set them up by staking the blocks in sets of three until you have built a tower that is 18 blocks high. Each new layer of three parallel blocks should be rotated 90 degrees. Before play starts you want to make sure all the blocks are straightened out, so the tower and players are not at a disadvantage.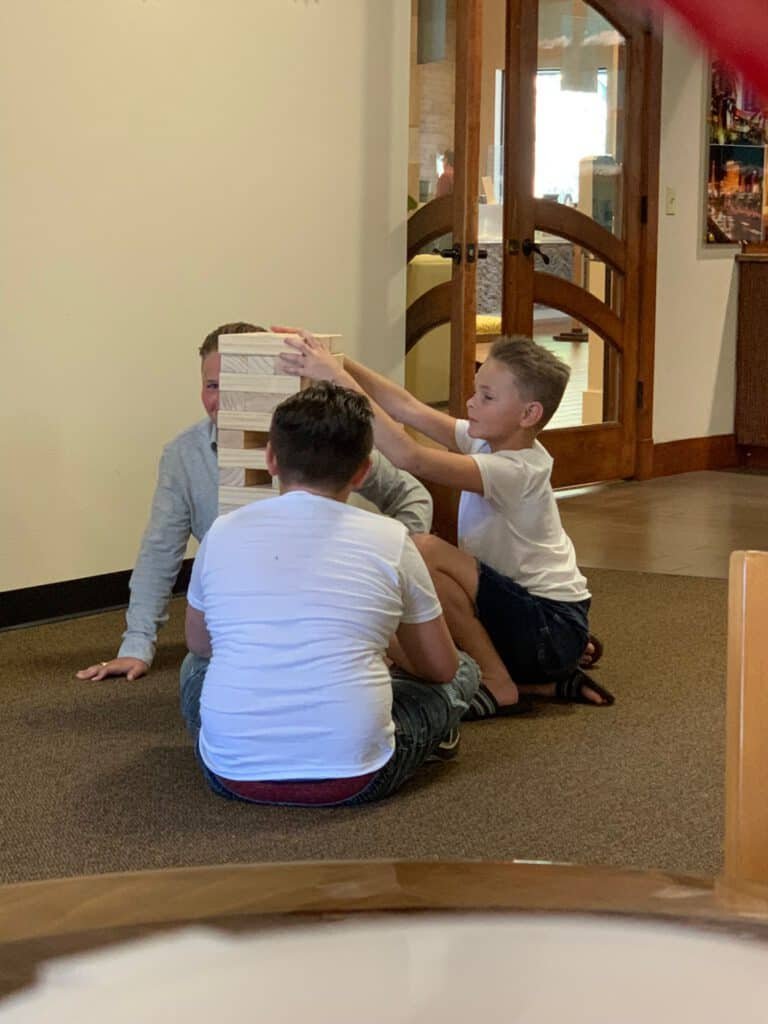 You will then decide the order of play. That can be from oldest to younger, clockwise rotation, counterclockwise rotation, or even by picking sticks and the person with the longest stick gets to start first. After deciding the order, you will then begin playing, by carefully taking one block out from any level of the tower except from the top, and then placing it back on top continuing with the current pattern of the set-up of the game. When carefully picking which block you want to remove, you are only allowed to use one hand. At no time are you allowed to use two hands or hold the tower up when it is leaning or beginning to fall over. This is a game of skill and strategy, so it is smart to pick the blocks that are loosest or easiest to remove, so that you have a greater chance of not knocking down the tower and losing. The game will continue until the tower falls over.
            If you aren't new to the game of Jenga and want to change it up, you can write down questions and or things the player must do on each block and the player who chooses that block must answer or do what is written on the block before putting it back on top of the tower. You can also play individually against someone in a tournament style bracket and winner goes on to play the next person who wins. Lastly, you can break up into teams and see which team can work together to build the tallest tower while still playing the game with all the same rules.