Are the little ones feeling a little lonely during bedtime? Are you in need of a present for a baby shower? Or perhaps you just want to surprise your girlfriend with a cute and thoughtful present? Well, our Cuddle Buddies are the perfect furry friend for your loved ones. Our furry friends love going on trips, car rides, and they even patrol the house at night to protect the little ones from monsters. We have plenty to choose from, turtles, sharks, kittens, reindeer, horses, tigers, lions, pigs, eagles, bears, and many more. However, here we don't just sell you a Cuddle Buddy we help you make your own special friend.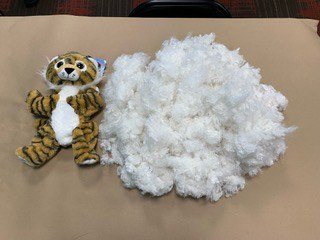 Step one, find which friend you want to create.
Step two, find your favorite color star, so you can make a wish and put it inside your new friend for safe keeping. However, only you and your furry friend should know what the wish is.
Step three, you will take the stuffing that our staff will provide and stuff your new friend, so they are full and fluffy.
Step four, dress your friend from our clothes selection.
Step five, name your new friend and take them everywhere you go.
Are you in a hurry and don't have time to make one now? Or perhaps you want to take it home for someone to make, don't worry we have to-go kits that we can put together for you. We sell our Cuddle Buddies by themselves for $35.00. If you want to purchase a Cuddle Buddy with clothes it will be $40.00 and if you want to buy a second pair of clothes it will be an extra $8.00. We strongly encourage all our guest to come back year after year and show us what adventures you and your friend have gone on. So, what are you waiting for? Come down to the Art Studio and make some new friends.