Everybody loves food. Everybody loves snacks. Everybody loves a tasty treat throughout the day, and at Grand Beach Resort, we know how to satisfy those cravings. One day in the near future we hope we can bring these fun food activities back, but for now we can take a look at the past and tell you about just some of the awesome food activities we've offered and what we have planned for the future!
Fall & Winter Foods- Even though we are in Florida and its warm for most of the year, we still like to enjoy the fall and winter seasons and the fun treats that come with those seasons. One of our favorites is our Caramel Apple Slices. We take 3 apple slices, put them on a skewer, and drizzle warm caramel sauce all over them creating the perfect fall treat.
Using the same process, we also did chocolate covered strawberries and chocolate covered marshmallows for Valentine's Day.
Another perfect Fall food activity is, of course, S'mores! This classic treat is made with graham crackers, a piece of chocolate, and a marshmallow that you (safely) melt on an open fire. It's sweet, it's warm, and it's so delicious!
And on Thanksgiving we give away free slices of pie!
Spring & Summer Foods- Spring and Summer are always pretty hot in here, so we love to offer our guests some icy treats to cool off in the Florida sun. One quick and easy way we do that is by going around the pools and giving our guests popsicles!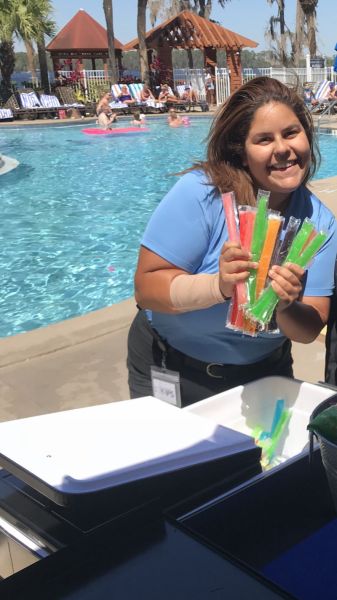 On certain days in the summer we sell Snow Cones poolside with fun flavors like blue raspberry, tiger's blood, grape, lime, and more.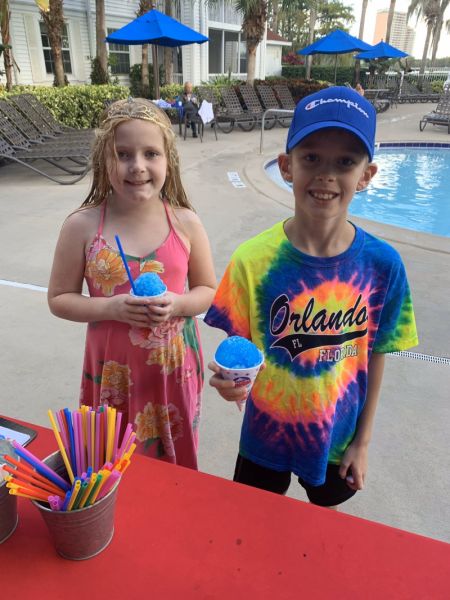 Who wants ice cream?! We know you do! And that's we have ice cream socials throughout the week during the hot months of the year. We have the classic flavors of chocolate, strawberry, and vanilla ice cream, and a variety of candy and toppings to make the perfect sundae. And other days we do ice cream floats, with a couple scoops of vanilla ice cream and your choice of soda including the classic, root beer.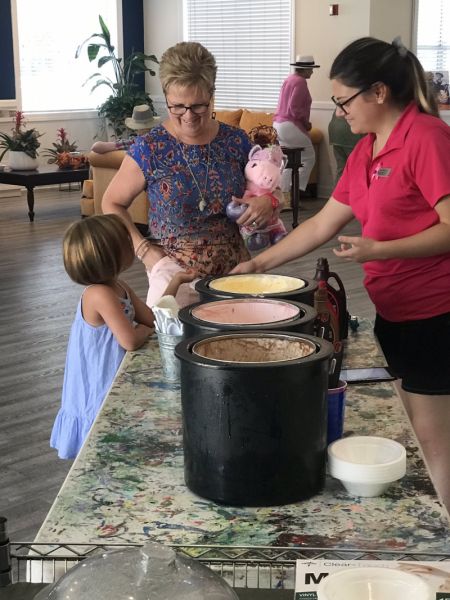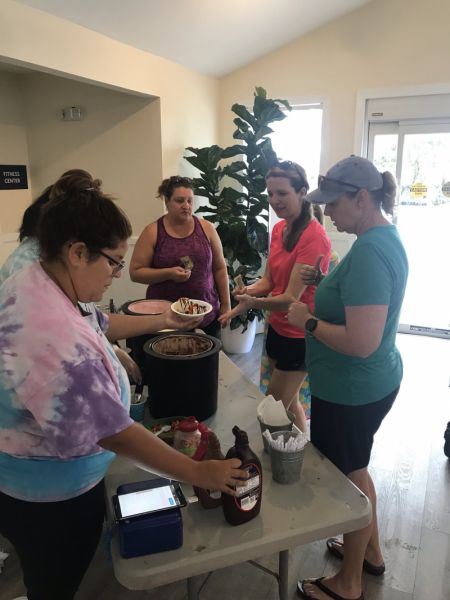 Some other fun food activities we do happen right by the pool, and they are food competitions! One fun food competition we do is the Whip Cream Pie Eating Contest. We fill plates or bowls with whip cream and the first person to clean their plate wins that round. Sometimes to make it more fun, we will put jellybeans or other candy hidden in the whip cream and the first one to find all the candy on their plate wins. And of course, you can't use your hands!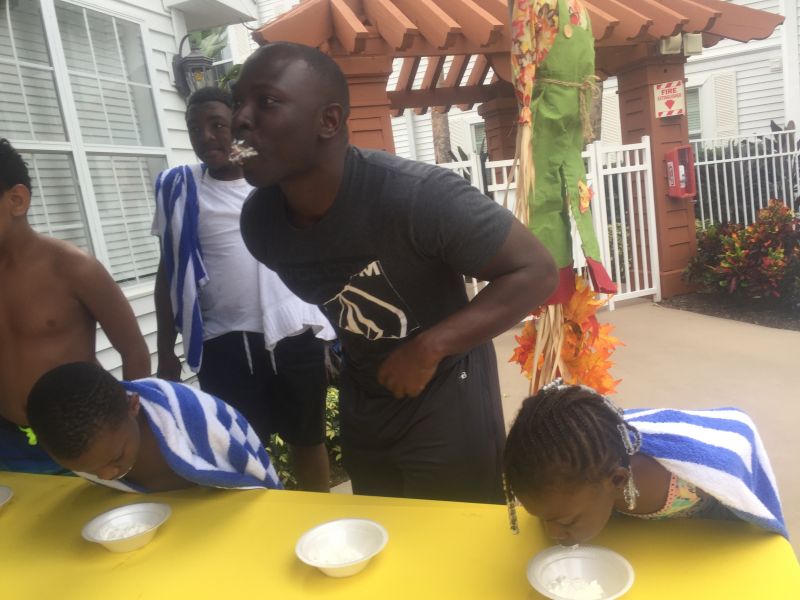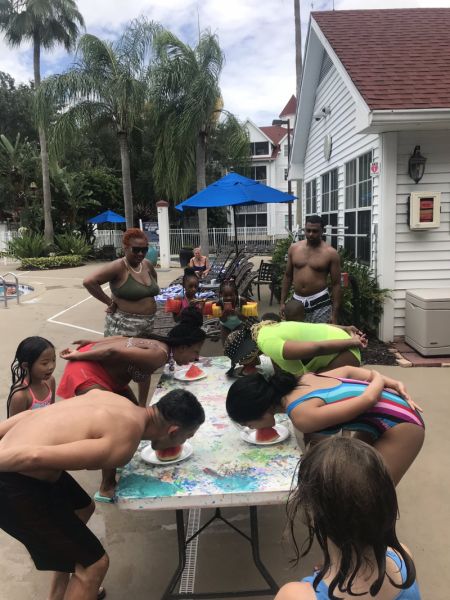 And our most fun and most popular food competition is our Watermelon Eating Contest! All the contestants get a slice of watermelon and with using only their mouth, they have to eat all the pink off the slice. The first person to that is our winner for that round. The winners from each round compete in the winner's circle to determine who is the ultimate watermelon eating champion that day! We do this for kids and then for adults. It's the perfect summer food competition for the contestants and for other guests who are observing from around the pool deck.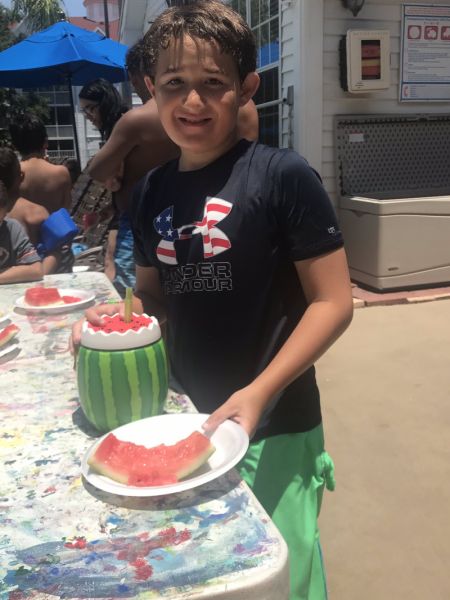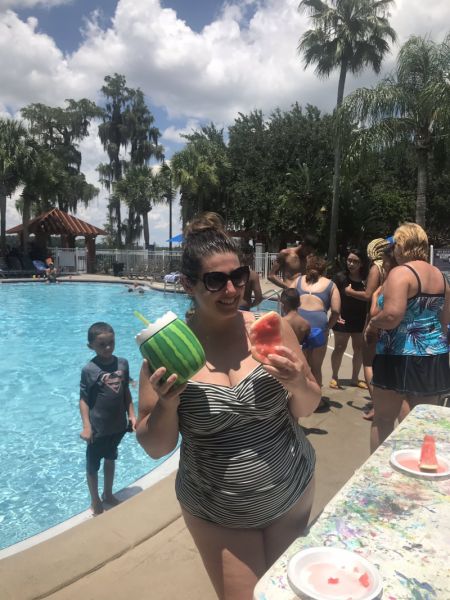 Food activities are great all year long, and we cannot wait to be able to bring these awesome food activities back at Grand Beach Resort in Orlando, FL, and have fun with food!
info@paradiseactivitycompany.com
https://paradiseactivitycompany.com/
323-999-1894
Paradise Activity Company is America's Premier Resort Hospitality Company. We focus on activities, entertainment, and hospitality outsourcing for timeshares, hotel and resort operations worldwide. The hospitality industry counts on Paradise Activity Company to run their hotel and resort activities departments, making it the largest outsourced activities vendor in the United States.
Hotels, resorts, timeshares, recreational communities, and several hot vacation destinations have realized the benefits of outsourcing activity staffing to us.